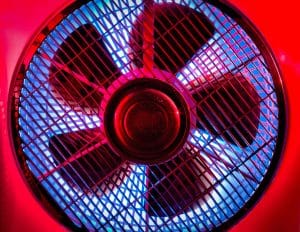 We're not known here in Calgary for our tropical climate but as spring turns to summer, the thoughts of homeowners inevitably turn to how to keep the home cool during the warmer days of the year.
We do get days in the high 20s or even 30s so most homes need some cooling at this time of year.
Is your air conditioning system ready?
Maybe you need a new system or you never installed one?
If so, what's the best type of air conditioning system for your home?
Should you install a system that just does cooling – or heating too?
It helps to know what your options are and how you can get an existing system into shape for the summer.
What type of AC system is best for your home?
If you don't yet have a cooling system installed in your home or you're considering changing your cooling (and heating) system, you have several options, as described below.
Portable air conditioners
These are usually plugged in near a window and most models come with a window kit to expel the warm air outside. They are convenient but make sure that the thermostat is placed correctly (not next to a hot window) so that it gives an accurate reading for the room temperature.
Portable air conditioners may be well suited to small apartments or condos or for cooling certain small rooms within a larger property – the unit can be moved as required.
One cost-effective option for keeping cool in summer is using energy-efficient ceiling fans in tandem with a portable AC system. Fans can be effective if the temperatures don't soar too high so they should not be overlooked as part of the solution if you're looking to save on energy bills.
Split air conditioning systems have the evaporator placed centrally inside the room and the compressor/condenser part of the unit, which discharges the warm air from your home, placed in a shady spot outside your home with plenty of room around it.
These systems are well suited to small or larger rooms (depending on BTU reading) that frequently require cooling, such as bedrooms.
Wall-mounted air conditioning systems can save you money as they are sealed permanently, keeping more cool air inside the room/home.
What's best for your home?
Given the above options, a key decision you need to make is whether you are looking for an occasional-use air conditioning system that may be redundant for nine months of the year or you want to combine a heating and cooling system.
Making the right decision now could make a difference to your home both in the heat of the summer and the cold of the winter – and to your energy bills.
If you choose an HVAC system, it's likely to be one of the biggest energy consumers in your home, using up to half of your energy usage. However, we can help you install an energy-efficient system that provides the peace of mind that it will do its job affordably and reliably for many years ahead (with the right maintenance).
The air conditioning systems installed by Pete the Plumber are only the best – from established names such as Trane, American Standard and Heil.
How many BTUs do you need?
The BTU (British Thermal Unit) rating is a measure of the cooling capacity of your system. It is the amount of heat required to raise the temperature of one pound (0.45 kilograms) of water one degree Fahrenheit (0.56 degrees Celsius).
Every air conditioning system you install will have such a rating.
As a general rule, a typical split air conditioner for a small room might need a rating of 10,000 BTU. Larger rooms will need 12,000 – 14,000 BTU and a central system for the whole house might be 60,000 BTU.
For rooms with standard eight-foot ceilings, you can use the following as a guideline:
8,000 BTU is adequate for 200 sq. ft.

10,000 BTU is adequate for 300 sq. ft.

12,000 BTU is adequate for 400 sq. ft.

13,000 BTU is adequate for 450 sq. ft.

14,000 BTU is adequate for 500 sq. ft.
However, sunny rooms with poor insulation or heat-producing appliances will require more cooling. Unless you take steps to reduce the energy usage in such rooms, you will need a higher BTU rating in such rooms.
How do you get your AC ready for the summer?
If you have air conditioning already installed, it's important to have it cleaned and checked at least once a year.
As we're coming up to the busiest time of year in terms of workload for AC systems, now is the ideal time to book a service from a trained technician. This full service will see your system through the summer months and beyond.
If you want to look after a little maintenance yourself in-between times, this may be possible if you have a system with easy-access filters. Some systems make it easy to access and remove the filters, cleaning them and freeing up gunk and dust to ensure that your system continues to perform optimally.
This will prolong the life of your system and ensure that the monthly energy bills do not become inflated.
Keep your home cool this summer
At Pete The Plumber, our skilled and experienced technicians can help with an estimate for air conditioning system installation. We are also experienced repair and maintenance technicians for Calgary and the surrounding area.
We offer competitive financing options and every installation is backed up with a great warranty.
We're happy to discuss your options and help keep your home cool affordably this summer. Get in touch on (403) 257-1766.