Hot Water Tank Installation Calgary
Quality hot water tanks supplied & installed to keep you warm all year
Taking hot water for granted is fine until the system breaks down: suddenly the bath water runs icy cold with nothing to heat it.
Make sure you have a constant and reliable supply of hot water all year round by installing a high quality tank with Calgary's leading plumbing pros.
Because you'll have to live with your hot water tank for many years to come, it's important to take time out to really consider the best options available.
As Calgary's largest purchaser of hot water tanks, we can provide exceptional value on your new tank; and our well-established plumbing expertise gets it installed and ready to use quickly, efficiently, and reliably.
The domestic hot water tanks we supply and install are:
Great value and economical to run

Installed by our own professional plumbers

Backed by 24/7 emergency service

Backed by a 2-year warranty on parts & labour
A.O. Smith Water Heaters
At Pete the Plumber, we proudly recommend and install AO Smith hot water heaters as our preferred brand for our valued customers. When it comes to energy efficiency, AO Smith sets the bar high. Their hot water heaters consistently achieve impressive Energy Factor (EF) ratings, surpassing industry standards and helping homeowners save on energy costs.
AO Smith's dedication to efficiency is truly commendable. Their condensing tankless water heaters, for example, boast remarkable EF ratings of 0.95 or higher. This means that over 95% of the energy consumed is efficiently converted into hot water, ensuring minimal energy waste and maximum savings for our customers.
Even their conventional tank-style water heaters offer excellent efficiency with EF ratings surpassing 0.6. This translates to efficient heating and optimal retention of hot water, ensuring that households have a reliable and cost-effective supply of hot water.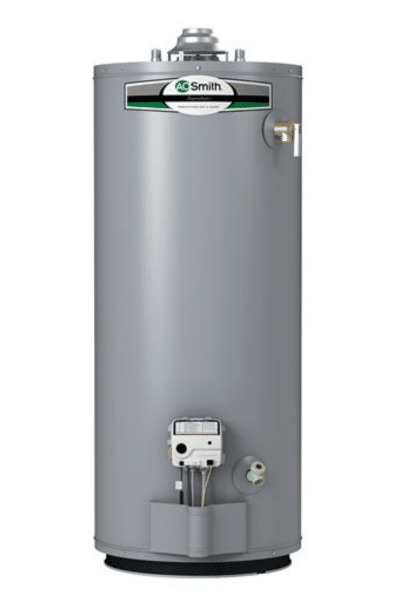 As Pete the Plumber, we stand behind AO Smith as our preferred brand because they consistently deliver energy-efficient hot water heaters without compromising on performance or reliability. We believe in offering our customers the best solutions, and AO Smith's commitment to efficiency aligns perfectly with our values. With AO Smith hot water heaters installed by Pete the Plumber, our customers can enjoy long-term energy savings, reliable performance, and the peace of mind that comes with choosing a trusted brand.
Make An Informed Decision
Households vary greatly with hot water usage.
If you want to know more about the right hot water tank for your family and would like to make an informed decision, give Pete the Plumber a call or visit our showroom.
During your chat or visit, one of our knowledgeable staff members will be able to provide you with more details and walk you through everything.
We can answer your questions and give you the general lowdown on all your hot water tank options.
Before selecting your tank, we sit down with you and consider your total hot water requirements around the year. This takes into account:
     Number of people in the house
     The appliances using hot water (dishwashers, sinks, showers, baths, etc.)
     Your overall usage requirements
     Times of day for peak usage
This helps you decide the most suitable hot water tank system for your purposes.
At the showroom, our team can provide you with a rough estimate, followed by a site visit to firm up your pricing.
Frequently Asked Questions
Hot water tanks usually last about 10-12 years on average.
Pete the Plumber installs AO Smith, high efficiency hot water heaters as a preferred brand. In special cases, we will install some other brands. We also install atmospheric type, power vented type, power direct vent type, electric, commercial, and tankless hot water tanks.
Yes, they come with a 10 year manufacturer warranty on tank, 6 year parts warranty, and a 2 year labour warranty.