HVAC Contractor Calgary
Need HVAC Services in Calgary? Pete the Plumber Has You Covered
An HVAC unit is one of the most important parts of any facility. But what do you do when it needs attention?
That's where Pete the Plumber comes in.
Our technicians serve the Calgary area, offering services for plumbing, hot water tanks and furnaces.
Is your HVAC unit in need of maintenance? Ask us about our service agreements.
When you want all your HVAC needs handled by an experienced professional, call Pete the Plumber.
HVAC Services Calgary
Heating and AC services are part of our specialist domain, alongside all the standard plumbing services.
In fact, we're a full-service HVAC provider and have been servicing Calgary and the surrounding areas for decades.
We've helped countless homes maintain furnaces, boilers, and hot water tanks, as well as fixing other common plumbing problems.
If you need a new furnace or heating system, we're one of Calgary's largest purchasers of heating equipment.
What is HVAC? How Does it Work?
The term HVAC stands for heating, ventilation, and air conditioning.
This system is designed to help provide climate controls for a home, business, or another type of facility.
There are many different types of HVAC systems out there, and each has a unique design.
As far as the common HVAC systems go, they typically utilize a set of coils for heating, and a system of refrigerant for cooling.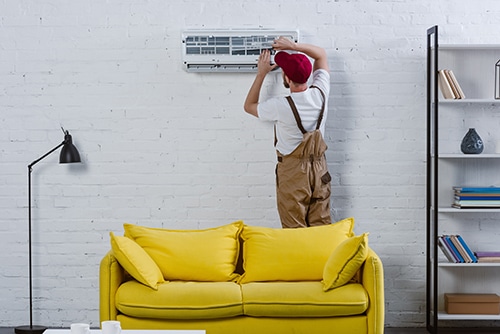 For homes in and around places such as Calgary or Alberta, the temperature can fluctuate.
Those chilly nights call for a lot of heat. And despite the cool climate, the warmer months can make air conditioning a necessity.
What Does Pete the Plumber Offer?
No matter the HVAC service you need or the facility you need it at, we've got you covered.
Residential Services: We understand that your home is your castle. It should be comfortable, and that also goes for the climate. Our Pete The Plumber technicians offer HVAC servicing, fixes, and installation.
HVAC Repair: Is your HVAC working halfway, or not at all? We'll diagnose the problem and provide the fix you need. This means ensuring it is operating at its peak and providing you with full output.
HVAC Maintenance: A well-serviced HVAC lasts longer and performs better. From cleaning to standard servicing, we do it all. Not only can this extend the lifespan of your unit, but it can also help you avoid future repairs.
No matter what type of facility you have or what's wrong with your HVAC unit, Pete the Plumber is here to help.
How Does Calgary Weather Impact Your HVAC System?
Calgary and the surrounding areas are known for some distinct climate characteristics.
The cold can cause an HVAC to strain. And without proper maintenance, this can lead to damaged parts.
Pete the Plumber's products and services are built for these tough conditions. They also offer the following benefits:
Energy Efficiency: Save the environment or save money? Why not both? Energy-efficient work means smaller energy bills and a smaller carbon footprint.
Environmentally Friendly: Avoid waste and unnecessary energy consumption. Not only do our parts and services help you, but they help the environment. Mother nature will thank you.
Indoor Air Quality: A healthy HVAC unit means a healthy environment inside. Enjoy the clean air, even better, enjoy it with a comfortable climate.
The benefits are plentiful – there's no reason not to enjoy a quality HVAC unit when it is this easy.
Frequently Asked Questions
We install Trane, American Standard, and Heil.
It is recommended that your furnace be serviced once per year.
Please note, some manufacturers require annual maintenance in order to maintain warranty.
There are a few factors you should take into consideration when looking for a new furnace or air conditioner. Their functionality and efficiency levels play a major part in deciding their cost. This can include:
Their fuel efficiency
Electricity efficiency
Sound levels