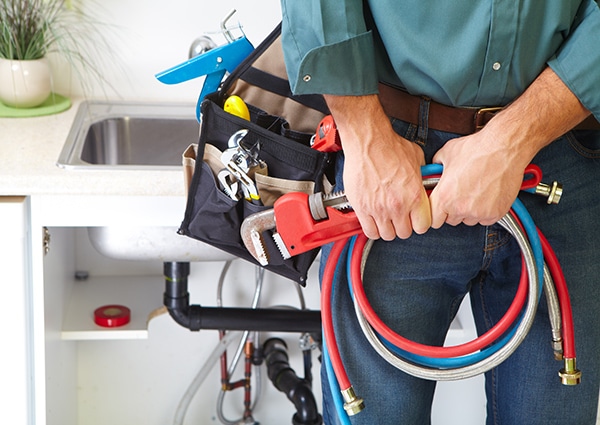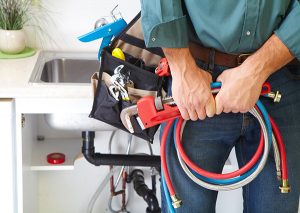 You're in Calgary. It's freezing cold outside and the furnace stops working, the hot water tank stops producing enough hot water for showers, or that faucet won't stop dripping.
You desperately need a plumber. In an emergency, it can be tempting to call the first plumber you come across and hire them immediately.
Not so fast!
Hiring just any plumber can make matters worse.
In fact, poor quality plumbers are like poor quality pipes – they won't last! And neither will their work.
Plumbers are everywhere in Calgary but the best plumbers are busy and not always so easy to track down.
Smart homeowners do their homework on their plumber before an emergency strikes. They check out their credentials and have a direct number to call when needed.
Before you hire a plumber, make sure you've ticked off the qualities that you're looking for. Below are the essentials you need to verify before hiring any plumber.
1. Ensure the plumber you hire is insured
The golden rule? Never hire an uninsured plumber.
You might think that things couldn't get any worse if you have a flooded basement, a broken furnace, or other plumbing emergencies – but they can!
Plumbing mistakes happen frequently and even the best plumbers can suffer a bad day.
Make sure that your plumber has liability insurance so that you're covered if something goes wrong with the work or, worse, the plumber is hurt while working in your home.
2. Ensure the plumber has references
Many people hire plumbers based on a friend's recommendation. This can make things easy – but it can also allow unlicensed or uninsured plumbers to get a lot of work. They may be accidents waiting to happen.
Make sure that your home is not the scene of an accident waiting to happen.
After you have checked the plumber's insurance and license, you need to see references. Don't be afraid to ask!
If you can't speak to other homeowners who've used the plumber's services, try speaking to other local professionals like HVAC technicians or electricians for their opinions on the plumber.
You can also check Google reviews. Avoid any plumbers without a great selection of customer reviews or with multiple complaints about their work.
Ensuring your plumber checks out can avoid an expensive mistake.
3. Arrange for a free quote
Before hiring a plumber to visit your home (and paying a mandatory call-out charge) try to get as much information as you can on the initial phone call.
As well as getting a feel for their qualities as a plumber, you can usually get an idea of when the work can be done, how long it will take, and the rough costs involved.
Describe the problem on the phone in as much detail as possible and ask for a quick guideline estimate of costs (make sure that they include everything with no hidden or surprise fees added later).
An experienced plumber will know from prior jobs roughly what a plumbing problem will cost to fix.
4. Ensure the plumber's work is guaranteed
As mentioned, plumbing work is no different from any type of work: things can and do go wrong.
You need to mitigate the risks, as the homeowner.
As well as checking insurance, make sure that the work your plumber does is covered by a guarantee.
Ensure that you are covered in case there is a problem soon after the plumber leaves or the repairs don't last due to faulty materials or workmanship.
With a warranty, the plumber should return and "make good" the work free of charge or at a greatly reduced rate. Make sure that you have this in writing.
5. Ensure the plumber you hire is established and has experience
If a plumber has been servicing the local area for 20 years, he must be doing something right!
After all, you don't last in plumbing if your work is poor: bad news spreads quickly.
A new plumber might be cheaper as they try to win new customers. However, if you want the peace of mind that the job will be completed to satisfaction, it stands to reason that an established service is more credible and trustworthy than a plumber who's just started out.
Why gamble with your home?
6. Compare plumbing services before an emergency occurs
If you only speak to one plumber, how do you know if you're getting the best deal in terms of quality and price?
Before hiring, try to speak to several plumbers in advance of your upcoming plumbing work and gauge how busy they are, what the estimated costs are, and when the work can be done.
You will probably get a "feel" for who is the best fit for the work you have.
Obviously, this is only possible in non-emergency situations. If there is a plumbing crisis in your home, you won't have much time to compare services.
Do your homework and choose your plumber upfront to avoid this problem.
Following the above tips will ensure your little drip doesn't turn into a swimming pool of problems.
For all your Calgary plumbing needs contact Pete the Plumber on (403) 257-1766. 
Calgary's #1 Voted Plumbing Service Provider.